The following Clinical Perspective is contributed by Dr Richard Muirhead.

An exploration of the James equation and alternatives
In trying to research the background of the James lean body mass (LBM) equations I obtained a copy of 'Research into Obesity' (Compiled by James W, Research into Obesity, HMSO 1976, p9. ISBN 11 450034 7). There was no detailed description of the equation (or the equation itself), but the following appear below tables on page 9:
Both equations reference Hume and Weyers1, Boddy et al.2 and Wormesley et al.3
These are two simple equations attributed to TP Eddy(a contributor to 'Research into Obesity') deriving a fat percentage from the BMI.
Both equations can be rewritten to show lean body mass (LBM) using the equation:
The references relate to a paper by Hume and Weyers deriving total body water from height and weight, from which a lean body mass can be calculated. This was then used by Boddy et al. to derive total body potassium and then by Wormesley et al. to compare with other anthropometric methods. As a consequence, we must presume that the Hume and Weyers method was used for deriving the 'James' equations, as no other height/weight methods were referenced.
I copied the data from within the Boddy paper into a spreadsheet and calculated the body mass index and percentage fat. These were subsequently plotted and linear regression analysis performed.
For both males and females the data was obviously in the form of a curve with a "best fit" residual sum-of-squares (R2) of 0.95 (male, BMI 18 – 32 kg/m2) and 0.93 (female, BMI 18-31 kg/m2). However Eddy used a different line of regression suggesting this was done manually (ruler on graph paper perhaps).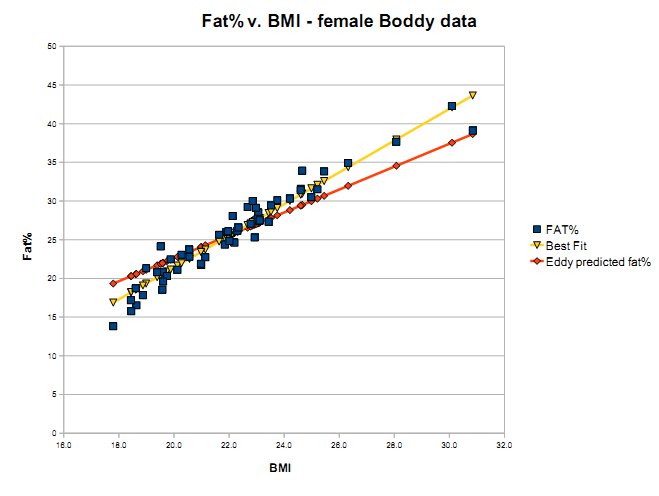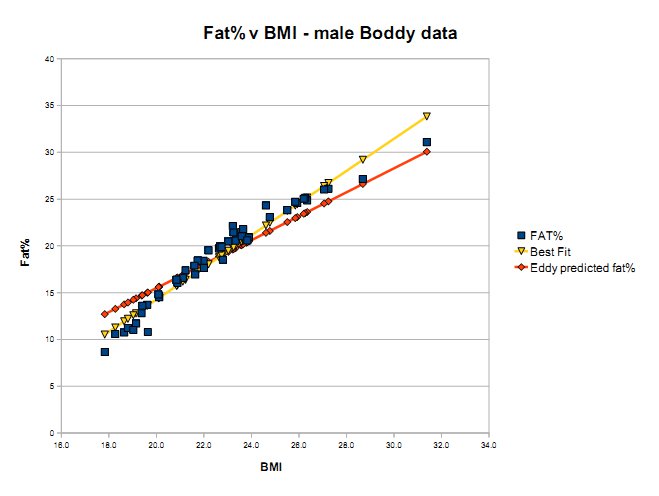 As can be seen, the equations produce a reasonable estimate of body fat (and consequently LBM) from the BMI over the range tested, but even so will be somewhat less accurate than using the original Hume and Weyers method.
Other alternative LBM equations
In 2005 a paper from by Janmahasation of Brisbane4,5 (Publication by Han et al. available as pdf) was produced calculating LBM from dual energy x-ray absorption (DEXA) in over 300 volunteers in an attempt to produce more accurate estimates of lean body mass. The range of BMI was considerable; however the calculated LBM results differ very little from Hume & Weyers!
I examined changing the LBM algorithm for both propofol and remifentanil in patients of increasing gross weight ( these graphs also include the Hume 1966 algorithm ( Prediction of Lean Body Mass from Height & Weight, Hume R, J Clin Path(1966), 19, 389 ):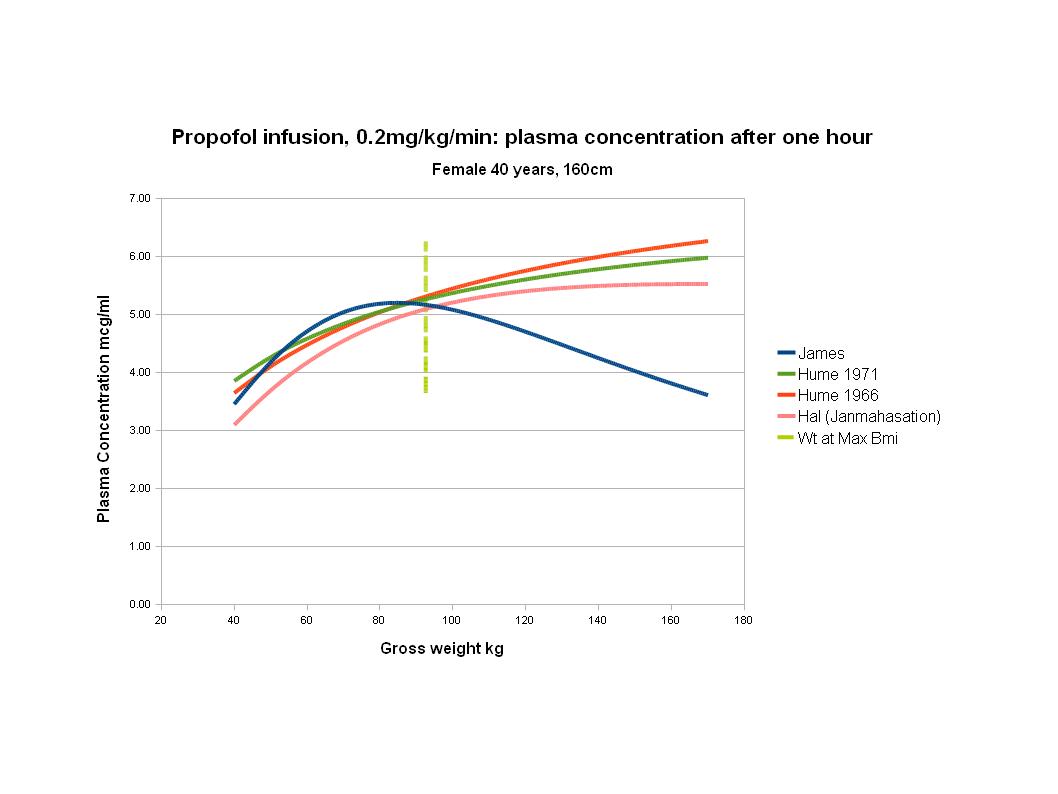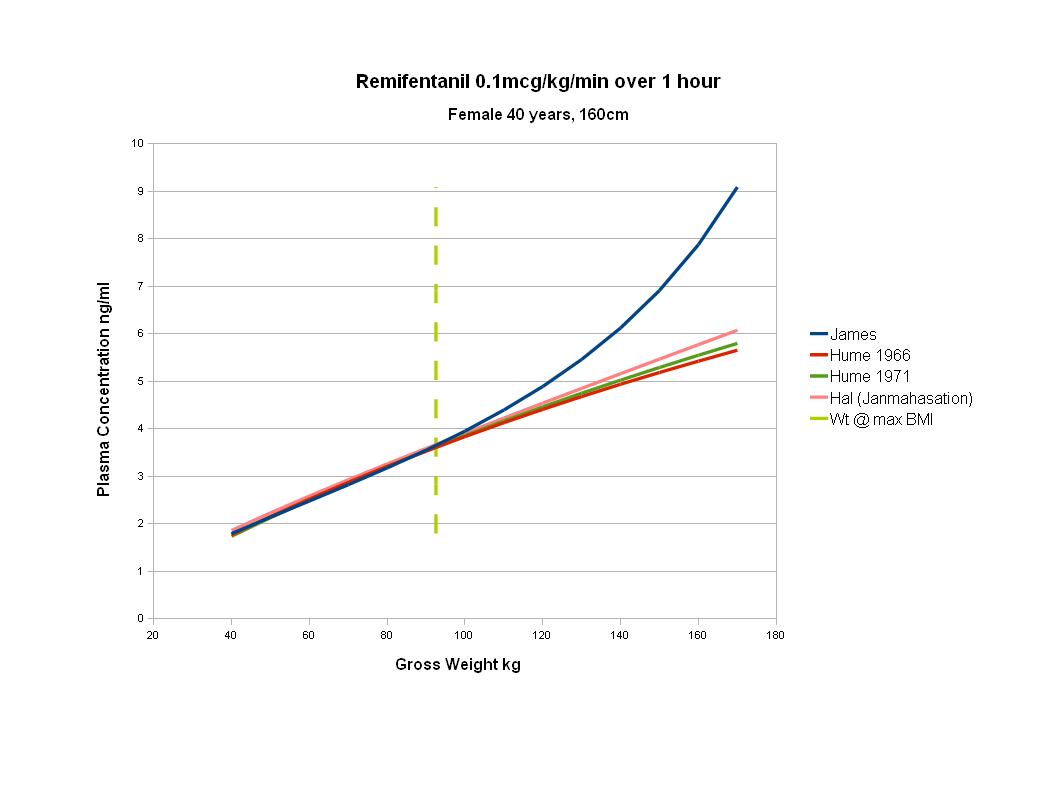 All three alternative LBM equations show surprising linearity!
The logical conclusion would be to substitute Hume & Weyers LBM for the James equations in the model for propofol published by Schnider et al.6,7 and for remifentanil published by Minto et al.8 There would be no need to change anything else!
In order to examine the use of the Hume & Weyers and Janmahasation LBM equations in vivo I created two programs. Both programs use the same four-compartment models (plasma, effect, fast and slow) as STANPUMP. Both programs will need to be unzipped before use. Please note these programs DO NOT control the pump – you do! Within this community I presume that all users would be proficient in TIVA. Both programs have been scanned using AVG and have been shown to be virus-free but this cannot be guaranteed. I am not aware of any similar programs except RugloopII  and I doubt if this includes alternative LBM algorithms.
RemiTrak.zip (download count: 73)
This program is used for estimating the plasma and effect concentrations for remifentanil using all three LBM equations. Using the program ( it should run on all Windows95 or later PCs, mouse recommended ) simply enter the patient details, the starting infusion rate (μg/kg/min)and hit start. Change the rate whenever you change the pump rate.
PropTrak.zip (download count: 71)
This program is the sister program for propofol and uses mg/kg/hr.
Newer versions of both programs are available from my private downloads page along with many papers and other supporting files.
Please let me know if these programs are useful!
1.
Hume R, Weyers E: Relationship between total body water and surface area in normal and obese subjects. J Clin Pathol 1971; 24:234–8
2.
Boddy K, King P, Hume R, Weyers E: The relation of total body potassium to height, weight, and age in normal adults. J Clin Pathol 1972; 25:512–7
3.
Womersley J, Boddy K, King P, Durnin J: A comparison of the fat-free mass of young adults estimated by anthropometry, body density and total body potassium content. Clin Sci 1972; 43:469–75
4.
Janmahasatian S, Duffull S, Ash S, Ward L, Byrne N, Green B: Quantification of lean bodyweight. Clin Pharmacokinet 2005; 44:1051–65
5.
Han P, Duffull S, Kirkpatrick C, Green B: Dosing in obesity: a simple solution to a big problem. Clin Pharmacol Ther 2007; 82:505–8
6.
Schnider T, Minto C, Shafer S, Gambus P, Andresen C, Goodale D, Youngs E: The influence of age on propofol pharmacodynamics. Anesthesiology 1999; 90:1502–16
7.
Schnider T, Minto C, Gambus P, Andresen C, Goodale D, Shafer S, Youngs E: The influence of method of administration and covariates on the pharmacokinetics of propofol in adult volunteers. Anesthesiology 1998; 88:1170–82
8.
Minto C, Schnider T, Egan T, Youngs E, Lemmens H, Gambus P, Billard V, Hoke J, Moore K, Hermann D, Muir K, Mandema J, Shafer S: Influence of age and gender on the pharmacokinetics and pharmacodynamics of remifentanil. I. Model development. Anesthesiology 1997; 86:10–23